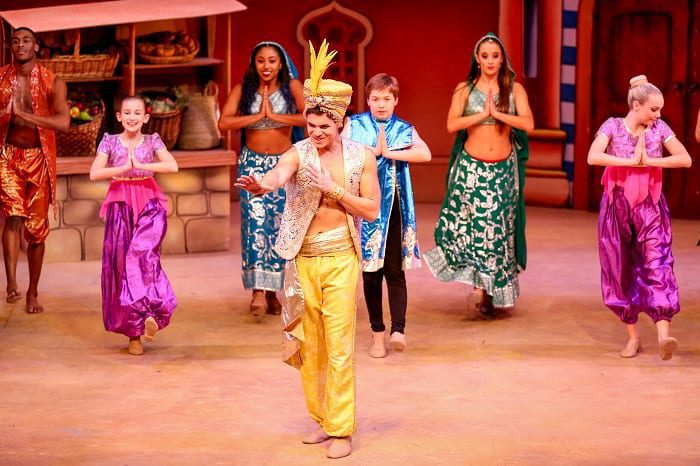 "Aladdin and his Winter Wish" will run Nov. 29 through Dec. 2 at Raleigh Memorial Auditorium. Clarence Alford Photography
---
Building Community: "Aladdin & His Winter Wish"
A Lythgoe Family Panto Production, Presented by NC Theatre
---
When asked by the wonderful team at the NC Theatre if we would like to support the show as a sponsor, we were honored.
When we heard them, and Kris Lythgoe – the man responsible for this latest production – explain their passion to make a difference in local communities and in the lives of children, we were drawn into the very same passion. And if anyone can position theatre and the arts as a place to connect and thrive in a shared experience, it is these folks.
Lythgoe's father, Nigel Lythgoe, was the producer of "American Idol" and is currently the executive producer of the dance competition show "So You Think You Can Dance." Producing engaging performances and experiences must run in the blood.
A Show for Everyone
While visiting our Neomonde Wholesale Bakery in Morrisville, Kris mentioned the concept of "Panto" for which the show is based upon – a peculiarly British tradition of winter musical comedy theater, designed for family entertainment. It involves performing familiar fairy tales and children stories (such as Cinderella, Snow White, or, in this case, "Aladdin") while incorporating contemporary references, pop songs for instance, which Kris mentioned are multi-generational, where "families come together".
The show is designed to be immersive for everyone that comes. Kids are encouraged and even directed (by a helpful narrator), to participate in the show, to "boo the bad guy" and become a part of the story being told around them.
A Show for the Local Community
Aligning with the NC Theatre's passion for building and connecting to the local community, Kris described writing scripts specifically for the city that the play is in – incorporating those elements that are of interest in that context (in a humorous aside, he shared a theoretical example of mentioning the deep-seated rivalry of Duke, Carolina, and NC State). While we won't give any secrets away from the show, Neomonde is excited to provide several "props" and to join in on some special moments as an interactive community element in the show.
We can't wait.
This show is but one example of NC Theatre reaching out to be active in the community, to be "The Region's Theatre" whiles also being "Your Broadway Connection". They provide a wide range of classes and opportunities to enrich the lives of children and to help those unable to afford such opportunities. Some of those amazing outreach opportunities from the NC Theatre can be found here: https://nctheatre.com/page/outreach
---
Show Information
When: Seven shows Nov. 29 through Dec. 2. Times vary.
Where: Raleigh Memorial Auditorium, 2 E. South St., Raleigh
Tickets: $25 and up https://www.ticketmaster.com/nc-theatre-presents-aladdin-and-his-winter-wish-tickets/artist/2521777?venueId=369155 
Info: 919-831-6941 or nctheatre.com For groups of 10 or more, call 919-831-6941, ext. 6949.
Show Page: For more details about the show, check out their page: https://nctheatre.com/shows/aladdin-winter-wish
News Write-up: As well as the excellent write-up from the 'News and Observer': https://www.newsobserver.com/entertainment/article221908150.html
Video Interview: Or, this fun interview with the two of the show's leading roles at 'ABC 11': https://abc11.com/community-events/aladdin-and-his-winter-wish-/4726608/