Notice: Due to COVID-19 our Durham location is temporarily closed. Our Raleigh location remains open from 11 AM to 8 PM for takeout or patio dining. Our Morrisville location is open from 11 AM to 4 PM for takeout and patio dining. For the fastest and most updated ordering method, please use online ordering.
Catering by Neomonde
Since 1977, Neomonde has proudly served the Triangle with authentic Mediterranean fare, fresh baked breads and pastries.Services range from small drop off orders to large full-service events.
Menu includes breakfast trays, boxed lunches, reception plates, and buffet packages. We also feature a wide variety of vegan, vegetarian and gluten-free options.
Let us host your next affair. Whether it's a wedding, corporate function or social get together, you can count on great food and an experience!
Our dedicated catering & event specialist will take care of the details, designing a menu based on your needs, tastes and budget.
Neomonde Catering For Raleigh, Morrisville, & Durham
Our Catering Customers Are More Than Just a Number!
We Dedicate time to personalize a catering solution that's perfect for your event, no matter what the size. Our catering experts will make sure that all of your guests are accommodated so that your catering creation suits your needs. We strive to get the details right so you will have a customized menu that you love.
Not Sure What To Pick? Our Catering Experts Can Help!

We want to make sure that our catering process is simple for all of our clients. Let us know any dietary restrictions you and your guests may have and we'll put a menu together for you. Our catering specialists will make sure this menu is the perfect menu for your event.
Your Catering Order Comes Ready To Serve!
When you place a catering order with Neomonde Mediterranean, it comes with everything you will need to enjoy the experience. All of our orders come complete with plates, napkins and utensils.
Things to Know:
– Delivery is available. A minimum order amount of $150 before tax and delivery fee is required. The delivery fee will be based on delivery destination.
– To better serve you and guarantee your order, please place catering orders at least 24 hours in advance.
– In case of a cancellation, please give us a 4 hour notice to the pick-up or delivery time to avoid a cancellation fee of 50% of the order value.
– Let us know of any food allergies in your party before placing an order.
– Prices and offerings are subject to change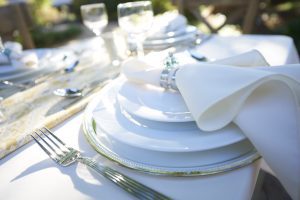 Weddings and Special Events
Catering Department Office Hours
M-F: 11 am – 5 pm
Sat-Sun:  11 am – 3 pm
Morrisville & RTP Catering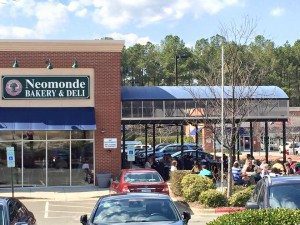 Raleigh Catering Location