Notice: Due to COVID-19 our Durham location is temporarily closed. Our Raleigh and Morrisville locations remain open from 11 AM to 8 PM, daily for takeout and patio dining.  For the fastest and most updated ordering method, please use online ordering.
Neomonde Mediterranean Morrisville
10235 Chapel Hill Rd. #400
Morrisville, NC 27560
(919) 466-8100
11 AM – 8 PM
Takeout Only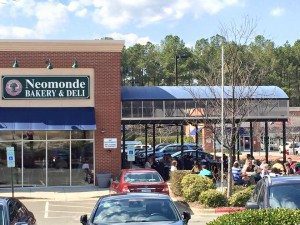 Neomonde Mediterranean Restaurant Morrisville
In the mood for a fresh and healthy meal? Check out Neomonde Mediterranean Cafe in Morrisville, on Chapel Hill Rd. Our contemporary and traditional Lebanese & Middle Eastern dishes are made with fresh, organic ingredients, so you can be sure that your meal is always healthy and delicious. We offer a ride range of menu options to accommodate vegan, vegetarian, and gluten-free dietary needs as well. Because we believe that healthy food doesn't need to be expensive, we price our menu so it's affordable. We want everyone to try our healthy, honest food, which tastes good, is good for you and makes you feel good too! Come find out what makes us the best Mediterranean Restaurant in Morrisville.
Neomonde Mediterranean Restaurant Morrisville Weekly Specials
Temporarily no weekly specials.
See What Neomonde Mediterranean Customers Have To Say!