Notice: Due to COVID-19 our Durham location is temporarily closed. Our Raleigh and Morrisville locations remain open from 11 AM to 8 PM, daily for takeout and patio dining.  For the fastest and most updated ordering method, please use online ordering.
NEOMONDE MEDITERRANEAN RESTAURANT LOCATIONS
Morrisville Location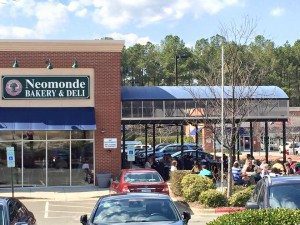 10235 Chapel Hill Road
Morrisville, NC
(919) 466-8100
11 AM – 8 PM
 Takeout and Patio Dining
Raleigh Location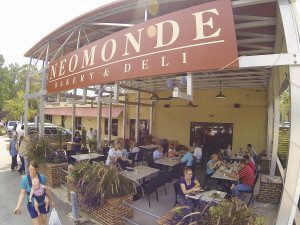 3817 Beryl Road
Raleigh, NC
(919) 828-1628
11 AM to 8 PM
Takeout and Patio Dining
Durham Location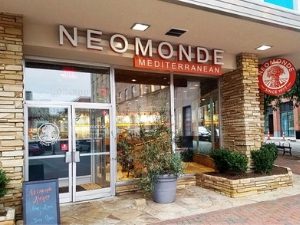 202 N. Corcoran St. #300
Durham, NC 27701
919-680-1886
Temporarily Closed
Neomonde Mediterranean Restaurant in Raleigh, Morrisville & Durham NC
Neomonde Mediterranean Restaurant has three locations in the Triangle are of NC. That means that if you live in RTP, you're never far from healthy, fresh, and high-quality middle eastern cuisine. Our restaurants are a delicious mix of traditional and contemporary Mediterranean recipes from our Lebanese roots. Our food not only tastes good, but it's also good for you. Neomonde offers a wide variety of vegan and vegetarian menu items as well. We serve lunch & dinner 7 days a week and also offer catering for weddings, business lunches, and just about any other event you are having here in the Triangle.
Ouimet Carrigan
17:38 06 Jul 20
I ordered online. You pick whatever time you'd like to have it ready for pickup, and then just give them a call when you arrive so they can come to your car. I got the chicken kabob with butternut chickpea salad (my favorite), and cilantro jalapeño hummus. That was my first time trying the cilantro jalapeño hummus and it's AMAZING. I would definitely buy containers of just the hummus. I'm so glad they've remained open during this time.
Julio Goyco
18:18 04 Jul 20
This place is utterly amazing do not hesitate to come here. Food was cook perfectly , very nice serving size. Quick and easy customer service. This place is legit. Very happy with my choice of eating here
David M Vo
07:12 02 Jul 20
Neomonde is a must if you're craving some good Mediterranean food! The taste is unique! So many delicious foods to chose from including vegetarian, vegan, and gluten free options. Always a plus! The location in Morrisville is closest to me, but due to the pandemic, the Raleigh location is the only one that remains open.
Bethany Lawson
16:39 25 Jun 20
I love Mediterranean food. Okay I love all food l, but Mediterranean is high on my list. Neomade is probably the best Mediterranean restaurant in the triangle. The pita is made fresh and they give you a generous amount to accompany your meal. The hummus is so good and everything is made fresh.
Wyatt Bone
16:01 14 Jun 20
This place is great. However, my most recent visit we were given stale pitas. We asked for a couple extra and they tried to charge us which they have never done in the past. We declined the extras. Good thing since they were stale. Also paid for extra garlic paste and did not receive it.Disappointed to see the quality and order fulfillment accuracy slipping. We have removed the opportunity for inaccurate order receipt via using online ordering.
Trina Beninati
04:51 31 May 20
Had a wonderful lunch earlier this week at Neomonde. First time visit for my friend - and he really enjoyed the lamb kafta pita. My flatbread was fabulous -- and too much for me to eat at one sitting. Only complaint was the lunch-time crowd, but it's a popular lunch spot. Service was a bit slow, and we had a 1pm appointment, so we were rushed to finish lunch. I definitely recommend Neomonde if you get there early or have no pressing after-lunch plans.
Elizabeth Davis
22:42 01 Mar 20
First time at Neomonde today. I got the 1/2 pita with lamb and sides of Orzo salad and Hummus with pita. I LOVE Mediterranean food and I was so impressed with the large variety of menu items and gorgeous colors of the fresh veggies in the display case! It was difficult to choose, but I loved everything and greatly anticipate returning often. It was a long wait (about 20 minutes) to get my takeout but the service was good and it won't keep me from going back!
Emily Stumpf
19:56 08 Feb 20
Really liked it here. Easy to order, food comes out fast. We had a lot of questions as it was our first time here and they were very helpful. The food was fresh, tasty and filling.
Christie Bell
02:27 08 Feb 20
Quite possibly the greatest food on the planet! My suggestion, pull up the menu online before you walk in. So much to choose from. And they stay busy. Know what you want to order beforehand. You will not be disappointed in the food!
Hanna Norris
19:48 07 Feb 20
That was so yummy!!! We ate it all! Pros, good food. Fresh food. Calming environment. And GREAT dessert. Cons, they forgot my order... and my friend had to go to the counter and tell them so they made a new one. Very pricey.
Nataki K.
10:53 06 Feb 20
One of my favorite restaurants in Raleigh, hands down. My only complaint is that I travel a lot and the fresh natural ingredients and excellently seasoned food has ruined me for other Mediterranean places around the country that used lesser quality ingredients. I catch up with friends, entertain clients, and run in for take out here at Neomonde all the time. I do it so much that when I ask friends about getting together, they already offer and ask me, "Do you want to meet at Neomonde's?"
Jennifer Hill
06:22 31 Jan 20
Outstanding fresh Mediterranean and Arabic foods. If you like Mediterranean or Lebanese food, you MUST try this place. Like a particular spice? The have a little market inside as well that sells them. I am largely unfamiliar with the names of dishes, but I have yet to try something I didn't like. The staff is s friendly!
Kathi Z
20:02 11 Jan 20
I just love this market style deli. Their food is always fresh and delicious. I've been coming here for over 25 years and it never fails to surprise and delight us. Treat yourself to the baklava, go on - you deserve it.
Terrance Petty
06:04 07 Jan 20
Delicious! This place is amazing. They also have a really nice store to buy your favorites to bring home. I had four side dishes. All four dishes were great. I like how they switch up the offerings based on the season. Everything is so fresh and flavorful. You get a huge portion of everything too.
Sarah R
16:31 27 Dec 19
My husband and I are big fans of Neomande! There have been multiple occasions where we can't decide where to go for dinner, and settle on going here because it's just always so delicious and hasn't disappointed us once. When it's busy, it gets real busy with lines out the door, but with good reason! I would suggest planning your visit around the less-hectic hours so you can really try the food in a more quiet environment (as well as actually getting a parking spot).
Rachel Love-Adrick
23:40 14 Dec 19
We love Neomonde! We live in Morehead City & this is our go to Raleigh spot. Can't go wrong with the chicken kabobs, don't forget to try the garlicky spread that comes with it. All of the sides in the deli case are tasty, we love the cilantro hummus & couscous. Fresh baked pitas are tasty too.
Joe Staton
20:47 08 Dec 19
Fresh food. Meat, vegetarian and vegan available. Vegetable lasagna outstanding. Chickpea salad and beet/orange salad as sides. Fresh pita available too. Always good, always stop when in Raleigh
Lizzie Gerber
23:58 25 Oct 19
Went there for dinner and the food was delicious! The thin bread is so yummy and there even have Lebanese beer! Next to the main building they have a small market where you could buy yogurt, tried fruits and other exotic stuff. Great place!
Ronald Marchesano
18:02 13 Oct 19
The server behind the counter was attentive and knowledgeable when ordering a vegan meal. The food was delicious and there is a deli area where one can shop for items to take home. The seating areas are ample and the decor quaint for casual dining.
N. L.
23:31 09 Oct 19
Wonderfully executed middle eastern food. Interesting little bodega attached carrying all sorts of ingredients in case you would want to make it at home. Eclectic crowd although not particularly welcoming. Staff was friendly if distant. Watch out for traffic in the neighborhood because people regularly disregard control devises. Would be 5 stars if they work on their customer relations.
Marc Siegel
21:37 04 Oct 19
Just in town for a couple days. Restaurant was recommended at Harry's Guitar Shop and I'm so glad they did! Relaxed atmosphere, deli style, fantastic food
Nik Kei
21:03 04 Oct 19
Such an odd location but people flock here for a good meal. It was packed! There is a supermarket section and then a deli section where you can pick out your plate. Everything I had was amazing and the jalapeno hummus is a must try. I would go back and recommend that you stop here at least once. Great outdoor seating are and large indoor eat in area also.
Talmadge Rogers
17:20 02 Oct 19
Such an awesome find! Very fast service, extremely good food and a great atmosphere. Great for a quick lunch, long lunch or even dinner. Would highly recommend if you are in the area and well worth the drive! Awesome!!!!
Stefan Kowalewski
01:27 29 Sep 19
Neomonde Mediterranean is a nice place to get good Mediterranean food. The restaurant is cafeteria style where you order your food at the counter, pay, find a seat, and they bring you your food.I got the Pita Pocket Platter which includes half a pita, two sides, and baklava. The pitas are a good size and the platter is plenty of food.Oh, they also serve fresh-baked pitas which is a nice, tasty treat.Neomonde has indoor and outdoor seating. Indoor seating is a mixture of tables and booths. The only drawback is the insure seating area can get loud, making it hard to have conversations.The restaurant also had a small store where you can purchase Mediterranean items, treats, and cooking items.I will definitely be going back.
Tiffany Andrews
17:23 22 Sep 19
This is not a fancy restaurant -- more an expanded Mediterranean Deli -- but the food is well-prepared and wholesome. There is also a wide selection of dishes and desserts. The staff is polite and friendly and prices are reasonable. Want a steak? Not going to find that here, or a lot of other restaurant staples, but if you want to be a bit adventurous, you will be rewarded with a trip to Neomonde.
Steven Doty
20:50 15 Sep 19
Excellent food and atmosphere, multiple varieties of flatbreads. Easily the best steak (marbled, medium rare) I've ever had in a Mediterranean restaurant, and served in a great sandwich. Service lends itself to large groups and multiple courses.
Franchesca Kiesling
19:02 24 Aug 19
Fabulous flavor and affordable meals! I had the pita platter with half of a garlic chicken pita with a lentil dish with caramelized onions and then some cilantro jalapeno hummus. I chose the pistachio baklava as the dessert and got a homemade chocolate covered marshmallow to boot all for $12.11. There is complimentary pita if you ask for it. All the desserts are made by this couple from Jordann. Highly recommend!
Cu Phung
19:40 18 Aug 19
This is a very good Mediterranean market and restaurant. You can get all the Mediterranean import here. Their pita bread is fabulous. The foods are great, too. It's a very popular place for NCSU students. They serve a great vegetarian menu, also. The only downside is at lunch time, it's hard to find a parking space.
Garrett Carpenter
20:37 28 Jul 19
One of the best Mediterranean spots I've been to. Everything tasted great and we only sampled a small portion of what was on the menu. Lots of indoor and outdoor seating. Dog friendly. Definitely a spot to try and try again.
Spencer Downs
22:18 24 Jul 19
This place is amazing! It's officially my new favorite place to eat in the entire state! We will definitely be coming back very soon. Thank you! 🙂
PRESTONKATHRYN CAMPBELL
16:00 17 Jul 19
Plentiful options and outstanding food. The service is courteous and patient and their Middle Eastern/Mediterranean grocery is well stocked. I highly recommend their freshy ground spices.
G. Renata Marlowe
18:15 16 Jul 19
The spice selections are wonderful and very reasonably priced. I found that their house wine is excellent. I met my son and daughter there for dinner. We had such a hard time selecting our dinner because they have so many wonderful options! Everything was perfectly seasoned and sooooo delicious. When in the area, I will certainly be back to frequent this establishment. The atmosphere was very pleasant. Once we sat down they became very busy. A great place to take the family!!
Marjorie Ruiz
02:14 14 Jul 19
Mediterranean food and the scene here is better than most. Do yourself a favor and try this place. I look forward to a return visit. Feels like a place in Los Angeles I loved.
Amber Bower
14:44 08 Jul 19
Neighborhood was not in the best part of the city, also hard to figure out what to order if it's your first time there. However, the food is delicious and the ambiance is nice. We met a friendly local in line who helped us figure things out.
Kerry Graham
09:56 06 Jul 19
I've also had their catering and desserts which is all delicious. Their kebabs and shawarma pitas are amazing. The baklava is not to be missed! Everything is so fresh and flavorful. You get a huge portion of everything too.
Elena Carling
21:38 22 Jun 19
Beautiful little place for great healthy lunch and dinner options. Cute little Lebanese market located inside. Definitely will go back.
Jared Smith
21:23 20 Jun 19
Fantastic selection of foods and desserts, along with a well-stocked market. The meal I had was out of this world! Will definitely return!
Tory H
21:22 17 Jun 19
Great food, great selection, great service. Crowd pleaser. Kid friendly: high chairs, changing table available. Plenty of space. Don't miss this one.
Vijay RK
16:47 17 Jun 19
Been here a few times -Loved it.. pricing is just right. And was very tasty. Only grouse is parking. The street itself is at a weird angle and then there is no parking in the busy hours
Robert E Roulhac Jr
12:55 17 Jun 19
Great food nice atmosphere. Really good options to choose from for lunch/dinner and even plenty options for dessert. Great service as well! Food came pretty quickly and the family loved it!
Brian Flowers
00:09 08 Jun 19
A wonderful lunch place. But it's extremely busy. Food is prepared quickly but you may have a wait in line. The food itself is worth the wait.
Josh B
09:40 05 Jun 19
My wife and I have been wanting to try this place for a while now and we're glad we did! The food was delicious and the service was great. We will definitely be coming back!
Sophie McMillian
01:44 28 May 19
So yummy! The atmosphere is lovely, staff are friendly, and if you're lucky enough to get pita fresh out of the oven.... pure heaven! Also, it's right by the arboretum... great lunch date idea: pick up neomonde and then eat a picnic surrounded by nature.
Mike Purdy
13:43 27 May 19
Great selection of delicious foods at good prices! Service is quick and staff is friendly. The desserts are solid too. You can't go wrong here
Brian Geiger
13:33 26 May 19
Fresh flavorful Mediterranean cuisine with many meat and veggie options. Affordable childrens menu. Attractive and casual indoor and outdoor dining areas. Helpful and friendly servers. Small attached grocery with staples, sweets and savories...good pick for Raleigh diners!
Debbie Renee
19:39 17 May 19