The Wonderful Falafel
The word "falafel" has an ancient and disputed history, and can refer to the fritters themselves or to sandwiches filled with them. Like many foods of the regions, it's origins can be traced back thousands of years but the exact time and location is often unknown.
Falafel is from chickpeas, fava beans or both. Chickpeas are most commonly used in Middle Eastern countries including Syria, Lebanon, Jordan, Israel and Palestine which is also the most popular style in western countries. Its staying power in several countries over the centuries, and crossing regional and international boundaries, speaks to the rich flavors and diverse variations and pairings…  not to mention the healthy nutrients falafel can deliver. Some of which include iron, calcium, phosphorus, magnesium, copper, zinc, potassium, Vitamins B and C, thiamine, manganese, folate, among many others.  Whew! That was a mouthful, much like the falafel itself packing a filling punch of fiber due to the high bean content.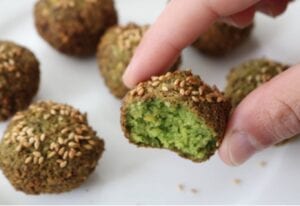 Spanning the globe, the falafel must have known it made it to popular culture when McDonalds debuted the "McFalafel", though we prefer the more traditional version. New world, old world, alone, or part of a sandwich or dish, falafel is always a delicious choice!  Enjoy!