Za'atar: Good for the Tastebuds, Good for the Body
An authentic za'atar is a spice recipe curated over thousands of years in the middle east, some historians tracking it back as far as the ancient Egyptians. This spice blend can be used in a multitude of ways.  It makes a flavorful rub for lamb, chicken, fish, or beef, it makes a great addition to labneh, baba ganoush, or hummus, or yogurt, or it can be mixed with just about any cooking oil for a flavorful marinade. With many regional variations, za'atar is generally composed of five standard ingredients: oregano, thyme, marjoram, sumac, and toasted sesame seeds. Oh… and it tastes great!
Benefits of Za'atar:
Rich in flavonoids, the ancient use of za'atar in medicine has been substantiated through modern studies, identifying za'atar to have high levels of flavonoids, a potent source of antioxidants, protecting cells in the body from damage.  Additional studies indicate that the ingredients may help boost mood and cognition by stimulating brain activity. In certain parts of the Middle East, folk tradition suggests that za'atar has brain-boosting properties, so much so that Lebanese children are often encouraged to sprinkle the spice mix on meals before exams!
Ingredient Powerhouse:
Sumac: One of the well-studied ingredients is sumac. Rich in gallic acid which contains anti-fungal, anti-viral, qualities, complimented by quercetin which boasts a number of anti-inflammatory and cancer fighting properties. Additionally, a 2009 study suggested that sumac can protect against DNA from errors during cell reproduction.
Thyme and Oregano: Other well-studied herbs include oregano and thyme which are both rich in thymol and carvacrol, part of the phenol family, and provide antimicrobial and antiseptic properties. Similar to the effects of gallic acid, thyme and oregano have also shown to reduce or eliminate funguses and other microorganisms.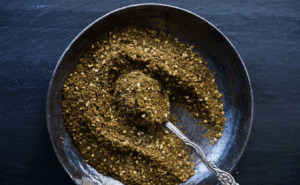 Outside of za'atar, a balanced diet with fresh ingredients is the best avenue to a healthy body. The Mediterranean diet, being full of these ingredients and rich flavors is a great place to start! Enjoy!