Our Lebanese Flatbread (Man'ousheh) Menu : Carving a Path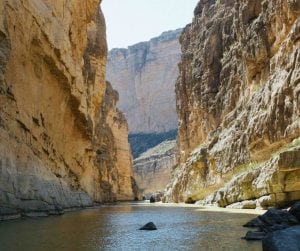 Man'ousheh…also written manakish, manaqish, manaeesh, manakeesh or again in singular form as found on our own Neomonde menu "man'ousheh"…the word itself comes from the root verb naqasha 'to sculpt, carve out', most likely referring to the process where after the dough has been rolled flat, it is pressed by the fingertips to create little dips for the topping to lie in.
Man'ousheh is indeed carving a place for itself beyond its traditional Lebanese borders – across the US, especially in places like New York City – and it has long been a local Carolina favorite at our Neomonde "New World" restaurants (Raleigh, Morrisville, Durham).
The Many Styles and Flavors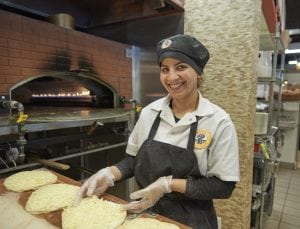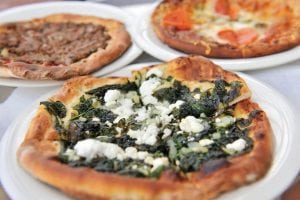 They can be described a lot of ways: freshly hearth-baked flatbread (ours made from organic flour!), open-faced sandwich, and of course the Lebanese pizza.
Their style and toppings are as versatile and numerous as the way it can be written: varieties of fresh aromatic herbs and spices, several types of wholesome cheeses, vegetarian options aplenty, and a savory minced-beef option (all-natural meat of course!). Harking back to its first and most basic form however, is the distinctive herbal topping 'Zatar' (dried thyme, sumac, sesame seeds, olive oil, labnet).
Its 10-inches of glorious flavor whichever way you have it (or folded if you fancy a smaller, more "calzone-ish" style). A full menu description with pictures can be found here (*warning: mouth watering may involuntarily ensue; please take appropriate counter measures):
Historically, Man'ousheh holds a fundamental role in Lebanese cuisine and even society. It is now a staple of a traditional Lebanese breakfast, a popular street food to grab on the go, an entree in itself, or a starter to share with others around the table. Its origins most likely come from the traditional villages however, where women bake the dough in a communal oven early in the morning, preparing all the bread needed for the day, as well as the smaller portions of the man'ousheh served with various toppings for breakfasts.
Old Style Meets New World
Our Neomonde Mediterranean restaurants prepare these breads fresh daily in our own hearth ovens. That's right. Everyday. Fresh. Just like they would back in Lebanon. That's how we merged our old world roots with our new world home. The communal fires would bring together entire village communities, providing the social and physical sustenance that made life so richly-knit.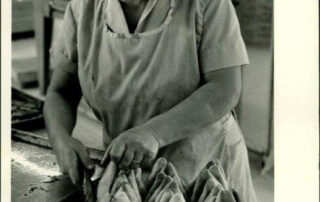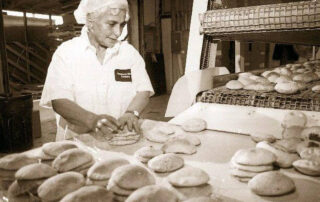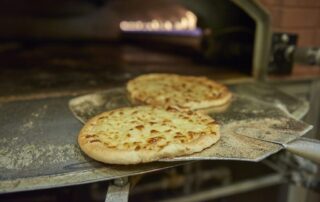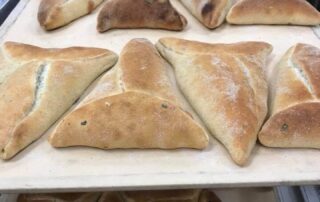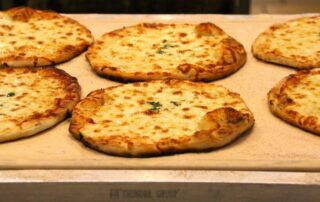 Life Happens Where the Impressions are Made
The dough is rolled flat and pristine, smooth as can be…but it's not supposed to stay that way. Its an invitation to join in, press on, and leave a mark. That's how space for all the wondrous flavors and toppings are made after all! 
Our context for "carving" or "sculpting" a space is a restaurant, and we invite you to enjoy all of its offering, but part of the story of our family is also the idea that each of us is on a journey of discovery towards a "New World" uniquely our own – where we discover a place for ourselves and a place to share our talents with others. 
Our's is food, but what's your blank canvas? Where are you waiting to leave an imprint?